Spirec has designed the first domestic hot water tanks through the digital solution CONNECS.
Developed in partnership with Advizeo by Setec, this connected solution brings domestic hot water into the digital age! Thanks to sensors placed on the DHW networks, information is collected and transmitted to the maintainer in real time. Temperatures, pump operation, possible faults, preventive maintenance instructions if necessary… all information about the network can be consulted on smartphones, tablets, desktops.
Operating as a subscription, the CONNECS solution strengthens the security of your equipment through increased monitoring. In case of exceeding the thresholds or of incident, a notification is immediately sent to the maintainer and a call from Spirec's after-sales service is carried out within the day.
CONNECS acts as a logbook to facilitate the collection and monitoring of data from your DHW networks. Selection of relevant data to be recorded, extraction for the sanitary logbook, transmission of a monthly report.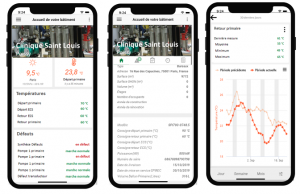 Télécharger la documentation